Reviews: Dreaming In Brilliant Color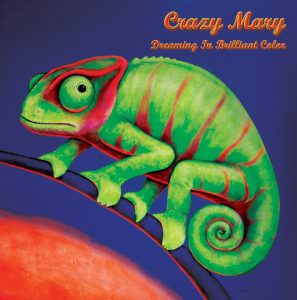 I'm listening right now, I love it…….I am sending to Chris (Stein) too.
Debbie Harry
Inside World Music
The inventive, NY-based, psychedelic-rock group, Crazy Mary, uses inspiration from 60's folk-rock and creative grunge sounds of the 80's and 90's to form a sound that is both fresh and memorable. Moreover, the chameleon artwork on the album cover signifies an ability to not only change colors, but dual meaning of varied musical tones and influences. The jamming abilities of Crazy Mary are not showcased entirely, but the gritty, violin and folksy or jazzy elements of "Come On Let's Go," "Nick's New Groove," and "The Big F" are paramount examples of Dave Matthews Band-inspired morsels–no matter what the original intention. The punchy vocals and grungy sounds seem more like the B-52's on acid (figuratively, of course) than any other comparable group. At any rate, Dreaming In Brilliant Color represents a solid work of thirteen songs that encompass the cozy folk stylings of the B3 with whirling strings and rock-steady guitars with riffs to match.
Matthew Forss
Pod
One of the great surprises in listening to contemporary music is finding bands/artists that don't fall prey to the sonic tools that have homogenized the sounds currently dominating radio play lists.
Crazy Mary offer the alternative.
Reaching back to an era where real people played music, that spirit of communal joy is infused in the grooves of their latest offering. Formed in New York back in 1998, Dreaming in Brilliant Color is the band's 10th release. Right out of the gate, "Come On Let's Go" is an exhortation to shake you out of complacency, bring you to your feet and join the party. Infectious and smart, the only choice for the listener is to comply. Highlights here include the dreamy "Song For A New Year", "Fallen Angel" and the experimental, yet very cool closer "Nick's New Groove".
Violinist Walter Steding brings another dimension to the band's sound, while vocalist Em Z graces the songs that guitarist/writer Charles Kibel brought to the sessions with her own unique style. Their blend of psychedelia, post rock sensibilities and soulful playing make for a rewarding listen, though you have to spin it a few times to truly take it all in.
Do yourself a favor and check out this record. Learn more about Crazy Mary
Sean Coleman

The Rock And Roll Report
New York-based band Crazy Mary has been around for over a decade and has created ten albums that feature their band of rock and roll. The band currently consists of Em Z on vocals, guitarist Charles Kibel, The Wizard on the bass, Parker Reilly on keys, drummer Nick Raisz and Walter Steding on fiddle. The sound Crazy Mary takes a lot of different elements and blends them together to create different styles and feelings from song to song. With this ever-changing sound, the band considers itself as a psychedelic rock band. The band is currently promoting their tenth and latest album entitled Dreaming in Brilliant Color.
The newest release from Crazy Mary begins with the track "Come on Let's Go". With a slightly experimental sound of the music, the rock feel of the song may remind a lot of people of bands like Blondie. And with the inclusion of Walter Steding's violin, the beginning track of the band's latest release is both full of energy while also having a slightly unique feel.
"Cup of Tea" is the second track off of Crazy Mary's latest CD. The song is a strong rock track that features the playing of keyboard player Parker Reilly that helps the band to create a unique rock sound. Of all of the songs on the release, this is probably the track that sounds the most like a straight-out rock and roll song. It is also one of the strongest songs on the entire album.
"Lonesome as a Train" is a track that takes a good amount of rock and adds just a touch of blues to the fun. The band creates a song that truly has the feel of a train rolling down the tracks. And the addition of Walter Steding's violin really adds to that train feel as the instrument makes the listener imagine a train whistle.
Crazy Mary takes a slightly different approach with the song "Ferris Wheel". The Americana song created by the band takes the band's sound in a new direction as they add some country elements into the mix. The track created by Crazy Mary sounds as much like rock and roll as it does country.
The song "I'm Ready To Go" begins with the keyboards from Parker Reilly and then becomes a track that features a slight Irish feel to the music. With all of the instruments working well together, the disco feel, the Irish approach, the gang vocals from the rest of the band and Em Z's vocals come together to create another of the strongest tracks on the release.
"Pass the Bread" finds the band slowing the pace down a little as the song begins. Before long, the band adds a little energy to the music as they take the song into the refrain. The alternating between lighter and harder keeps the music fresh throughout the length of the track.
It is on the track "Nick's New Groove" that you really get to experience the creativity of the band. The song has the most unusual feel of any of the songs on the release. It is this creativity that really sets this song apart from the rest of the album.
With the amount of years that Crazy Mary has been a band, the time spent to get here was obviously time well spent, as the music from the band on Dreaming in Brilliant Color is well written, well played and very entertaining. Each of the songs on the release is unique and has its own style. The ever-changing feel of the release shows off the talent of each of the players in the band. And since there isn't one song that brings the release down, it ends up being a very strong release from beginning to end.
Matheson Kamin

Wildy's World
The 1970's and early 80's were a crazy, brilliant, dangerous time in New York City: Prostitutes on 42nd Street, muggings all over town, and some of the smartest, hippest music anywhere. Much of that city is gone, but Crazy Mary is keeping some of that gritty spirit alive. On their ninth album, Dreaming In Brilliant Color, Crazy Mary shows off the sort of whip-smart swagger that once made rock and roll so much fun.
Crazy Mary kicks things off with the high energy rocker "Come On Let's Go". Vocalist Em Z is the primary driver here, as the arrangement underneath is decidedly low key. It's cult of personality time as Michelle Malone meets Geddy Lee in one of the more memorable vocal performances of the year thus far. The chorus is crazy infectious, and the unpredictable violin soli is the perfect spice. "Cup Of Tea" is a catchy little number, although Em Z seems a bit out of synch with the band this time through. "Driven As A Train" has a theatrical bent that is hard to ignore, and gets stuck in your medulla, making it next to impossible not to move around and shake your limbs.
"Song For A New Year" finds Crazy Mary wanting to capitalize on the political ideals of the 'occupy' movement, but the emphasis on the political isn't matched by the energy, and this tune fizzles before it can set sail. "Ferris Wheel" finds Crazy Mary getting more into a country/Americana groove where they sound most at home. "I'm Ready To Go" recaptures the energy the band is capable of, and promises much for Crazy Mary's live shows.
Crazy Mary takes a blind turn on "Fallen Angel", falling nicely into a blues/rock arrangement that's down and dirty yet refined. The energy here is ebullient, and Crazy Mary sounds like they are having a blast. Listeners won't be able to help from picking up on, and feeding off of that energy. The live wire feel stays for "Nick's New Groove", even if the composition is a bit rough around the edges. The seams never quite come apart as Crazy Mary tries to expand their musical field of play, but the edge of your seat drama over when it all might come apart is a fun musical sidebar.
Dreaming In Brilliant Color goes quietly thereafter, with Crazy Mary working through "Another One Like You", "Take Me By The Hand" and "The Big F" in mercurial fashion. "The Big F" is a funky monster that never takes off the way it might. One gets the feeling this tune will play better against the energy of a live audience than it does in the quietude of the studio.
Don't look now but Crazy Mary is in the neighborhood. In spite of some slow moments on Dreaming In Brilliant Color, Crazy Mary shows themselves to be accomplished performers and musicians, and Em Z has the sort of voice that's instantly recognizable once you've heard it. There's real potential here. In another era Crazy Mary would have a major label contract and a defined development path. Left to their own devices it seems likely Crazy Mary will still make it to the larger stage; it might just take a bit longer.
Wildy Haskell
Music Street Journal
This is quite a cool release. There's a lot of classic rock built into it, but overall the musical mélange seems to fall somewhere along the lines of a psychedelic progressive rock. Violin features fairly frequently, lending a rather unique flavor. However you lay out the musical influences here, this is quite a tasty disc that works well.
Track by Track Review
Come On Let's Go
A hard rocking sound opens this, rather like some alternative rock piece. As the vocals join it starts to come closer to a glam rock turned progressive piece. This is energetic and quite strong.
Cup of Tea
The harder rocking sounds are stripped away here. This feels a bit like a melodic psychedelic tune with some jazz elements in play. It's bouncy and fun and has a tasty guitar solo in the midst of it.
Lonesome As a Train
Songs about trains evoke both country music and the blues. Interestingly enough there are hints of both here. Still, the cut feels very much like the kind of psychedelic rock Jefferson Airplane used to do merged with prog. Violin adds a lot to the piece. The vocal arrangement is also one of the coolest and the bass line is great.
Song for a New Year
There's a quirky sound to this piece. The lyrics are all about problems in the modern world and seem pretty well tied to the "Occupy" movement. The cut is definitely progressive rock, but it has a real off-melodic element that's both off-putting and charming at the same time. The violin again offers some intriguing soloing.
Ferris Wheel
More of a retro pop rock sound is heard here. If the whole album were closer to the music on this tune, it probably wouldn't fit under "progressive rock." This, in context, though, fits. It's a catchy little number, but still shifted far enough left of center to keep it from feeling trite.
Spring Flowers
At times, I can make out hints of Jimmy Buffett on this number. That said, this is very much a progressive rock meets psychedelic song throughout the rest of it. It's definitely in keeping with the rest of the disc.
I'm Ready to Go
The vocal arrangement on this is both the most complex of the album and the best. This number really does a great job of combining those progressive and psychedelic elements into an effective arrangement.
Pass the Bread
Mellower music with hints of country and 1960s pop music are alternated with harder rocking sounds for an arrangement that's quite strong.
Fallen Angel
Vocals open this with a real scat kind of texture. Then the instrumentation brings in a motif that has some hints of the B-52s, but with a lot of jazz in the mix. Harmonica brings some blues to the table. This is another cut that might not fit into progressive rock, but with the rest of the stuff here as context, it works.
Nick's New Groove
As one might guess from the title, there's a lot of groove here. It has a killer vocal arrangement and there are lots of little layers of sound moving around here and there. Combine a classic rock sound with a lot of jazz and you've got a great idea of what this number is all about.
Another One Like You
Male vocals are featured here. This is bouncy and fun, but not really progressive rock like. It's a cool cut with a lot of old school rock and roll in the mix.
Take Me By the Hand
There's definitely an old time gospel type sound on this number. It's a fun one, but far from the most proggy on show. It gets quite down home country oriented later in the number.
The Big F
With a lot of violin, this instrumental is both jazzy and proggy. It's a cool way to end the set in style, bringing it well back into the realm of prog.
G. W. Hill
Interview With Charles Kibel
Pen's Eye View
Crazy Mary may represent a lot of things to people (songs, plays, kooky grandmas)…but if you know Crazy Mary as the band that screams classic NYC music scene – as in 70's, 80's and 90's NYC music scene – then you really know old school NYC. As one might expect, a band that has rocked the city since 1998 has some pretty awesome traits:
Founding members, guitarist and songwriter Charles Kibel and drummer Nick Raisz started their musical career on a Monday night in New York…at a lesbian bar.
Recent addition, legendary underground violinist Walter Steding has jammed with Keith Richards, and was Andy Warhol's painting assistant…and was even managed by Warhol!
The band is now fronted by Australian import Em Z – a vocalist who knows how to grab a room by the shirt.
Enthralled yet? Then check out Crazy Mary's latest record,
Dreaming in Brilliant Color
. We asked Kibel to get into it – he says to expect "Great hooks. It's our most approachable work. A number of the tunes have a real pop structure but we always add our weird quirks as well like putting a violin lead through a Leslie speaker or using both vocal and instrumental tracks that were recorded backwards. It wouldn't be a Crazy Mary record without some weirdness and experimentation." For the full effect of this band, you need to see them live. Check out
crazymary.com/
for schedule details and to learn more about this little piece of the Big Apple. Download
Dreaming in Brilliant Color
and keep reading – there's much, much more to learn in the answers to the XXQ's.
XXQs: Crazy Mary
PensEyeView.com (PEV): How would you describe your sound and what do you feel makes you stand out over the others in your genre?
Charles Kibel (guitar): We consider ourselves a psychedelic band but much psychedelic music is meandering and not very approachable. Our songs are written more concisely with a sort of pop mentality so they are easier to listen to compared with other psychedelic music. In addition they have great hooks and since we have to play them live, our songs are very danceable.
PEV: Calling New York City home, what kind of music where the members of the band into growing up? Do you remember your first concert?
CK: We're based in New York now but members of Crazy Mary grew up in different places and being vastly different in age, in different times. Walter Steding grew in near Pittsburgh in a time when popular music was very regional so he listened to a lot of rock and R&B acts that were popular in Western Pennsylvania and Ohio, an example being the Sonics. He also listened to avaunt-garde stuff like Stockhausen who pounded nails in the floor while an orchestra played.
Em Z grew up in Australia in the 90s and she listened to stuff her parents were into: Creedence, Pink Floyd, the Beatles and Cat Stevens. The first bands she listened to on her own were Guns n' Roses and Metallica. Later she also listened to hip hop. She always listened to the radio and watched MTV religiously every weekend.
I grew up in New York City in the 70s and listened to a lot of 60s bands, especially the Rolling Stones but also the Animal, Yardbirds, Kinks and later on the American psych bands like The Jefferson Airplane, The Dead and The Byrds. Later I listened to a lot of old blues and when they hit, reggae and later some new wave like The Clash once they evolved from being a pure punk band.
PEV: What was it like trying to break into the music scene in your hometown, when you first started out as a band? What was your first show like together as a band?
CK: It's very difficult because in New York City and Brooklyn on any given night there are so many things happening and so many bands playing. Our first show was at a lesbian bar on a Monday night in 1998. Needless to say there weren't many people there. However our next gig was at Webster Hall (not the main stage) for the release party for our first CD, Passion Pit, and it was really well attended and a lot of fun.
PEV: What can fans expect from a live Crazy Mary show?
CK: Come ready to dance. Our best shows are ones when the whole audience is dancing and having a good time. Sometimes people can be hesitant to dance but once one person breaks the ice it can be infectious.
PEV: What is the first thing that comes to mind when you step on stage?
CK: Well we usually have to set up in a quick amount of time so I'm concerned that we do that efficiently and am usually yelling at the Wizard (Bass) to hurry up. Once we're set up, I'm just relieved that it's time to play.
PEV: How has playing in Crazy Mary different than working with other artists or projects in the past?
CK: I've been in Crazy Mary for 14 years and before that three of the founding members of Crazy Mary were in another band together. That band had a much more volatile group of people and you never knew if practice would abruptly end in a huge fight (hint, never join a band with siblings). The lineup of Crazy Mary has changed a lot over those years but for the longest of times we all get along well with each other so there's much less friction than in bands past.
PEV: What was the underlining inspiration for your music? Where do get your best ideas for songs?
CK: Most of my songs start from playing around on the guitar with chord progressions or riffs. You never know when you'll create a keeper of not. I wrote most of Dreaming In Brilliant Color in a day and a half, the inspiration being the purchase of a 1963 Gretsch 6120. I just brought that guitar home and the songs flowed out of it. Writing lyrics can be are little more arduous. Sometimes a phrase just pops into my mind to put over a riff. Other times I can find inspiration watching a documentary on TV. I used a speech by Martin Luther King about the weapon of love as a chorus to a song ("Eyes Above The Clouds") I had been struggling to find words for. I used another documentary on Monet to write the lyrics to an other tune, "Confusion Reigns".
PEV: Thinking back to when you first started out, do you ever look back at your career and think about your earlier days and how you've arrived where you are today?
CK: We just take it a day at a time. If a gig becomes available, we take it. If we've written songs, we record them. Hopefully more and more people will be able to hear us the more we play and record. It is hard to imagine so much time has passed.
PEV: What's one thing we'd be surprised to hear about the members of Crazy Mary?
CK: That Walter Steding was Andy Warhol's painting assistant and that Andy used to manage Walter's musical career as well. The only other musical act Warhol ever managed were the Velvet Underground.
PEV: Tell us about your latest release, Dreaming In Brilliant Color. What can fans expect from this work?
CK: Great hooks. It's our most approachable work. A number of the tunes have a real pop structure but we always add our weird quirks as well like putting a violin lead through a Leslie speaker or using both vocal and instrumental tracks that were recorded backwards. It wouldn't be a Crazy Mary record without some weirdness and experimentation.
PEV: What is the feeling you get after an album like this is complete and you can sit back to listen to it in full?
CK: It's the moment I anticipate during the whole recording process. But remember at that point you've heard the song dozens of times so in some respect the most exciting time is listening to a song right after we tracked it, before final vocals and overdubs. Just hearing it for the first time.
PEV: What is the feeling you get after a song is complete and you can sit back and listen to it being played the way you envisioned?
CK: It's amazing, but sometimes the song doesn't end up as I envisioned which is even better. On the last recording, keyboardist Parker Reilly and engineer Michael Caiati had a lot of great ideas that I never would of thought of. It's good to have different perspectives.
PEV: With all your traveling is there one area you wish you could travel around and play that you have not yet?
CK: We play most of our shows in the NYC area but have traveled the Northeast corridor and have played as far away as Cincinnati so there are a lot of places I'd like to play still. I'd put London at the top of the list.
PEV: How have all your friends and family reacted to your career? What's it like when you get to play at your hometown?
CK: Well being that our hometown is New York City, it's not as if the whole town rushes out to see us when we play here, but those who do come give us a warm and friendly welcome.
PEV: What can we find each of you doing in your spare time, aside from playing/writing music?
CK: Most of us are artists in multiple genres. Walter is an accomplished painter. Em Z is a visual artist. I'm an architect. Nick loves to ski with Charles and also loves windsurfing, biking, and rollerblading. Parker is starting a new musical video program and the Wizard is on his spare time, well, working of his ground-lift treatise and trying to rid the world of hum (I kid not).
PEV: Name one present and past artist or group that would be your dream collaboration? Why?
CK: The Rolling Stones or Keith Richards. Because of their cultural influence and because they write great songs and are just amazing. Walter actually already has jammed with Keith at the Factory (I've seen pictures).
PEV: Is there an up and coming band or artist you think we should all be looking out for now?
CK: MGMT. They're a good psych band who should continue to evolve.
PEV: If playing music wasn't your life (or life's goal) what do you think each of you would be your career?
CK: In the other art forms we each peruse as I've mentioned above.
PEV: So, what is next for Crazy Mary?
CK: More of the same. We're writing new songs and playing more shows
Richie Frieman